from the 16th June 2021, Manchester, UK
– The playful world of Looney Tunes has taken to the streets of Manchester, with a colourful, family friendly walking tour of the iconic characters popping up around the city. 
Featuring eleven of the studio's most beloved characters, from Bugs Bunny to Daffy Duck, Speedy Gonzales to Tasmanian Devil, the exploratory street art will welcome people back to the city post lockdown.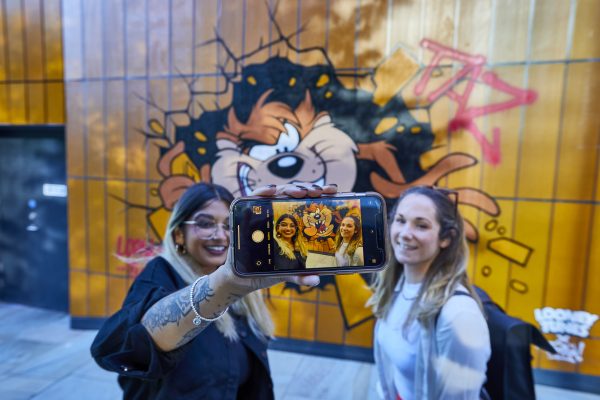 In partnership with Warner Bros. UK, CityCo and Manchester BID, and to celebrate the iconic Looney Tunes characters, artwork was created by street artist Captain Kris. The trail spans across 12 locations and features iconic characters such as Bugs Bunny, Tweety, Marvin the Martian and many more.
Appealing to both families, and nostalgic hunting adults alike, the mischievous artwork will see Daffy Duck waiting for a tram at Exchange Square, Speedy Gonzalez sprinting through Spinningfields, Bugs Bunny bursting out of Primark, Porky Pig popping a pipe at Pen and Pencil, Wile E. Coyote chasing Road Runner around Symphony Park, and the Looney Tunes gang skateboarding through Deansgate Square.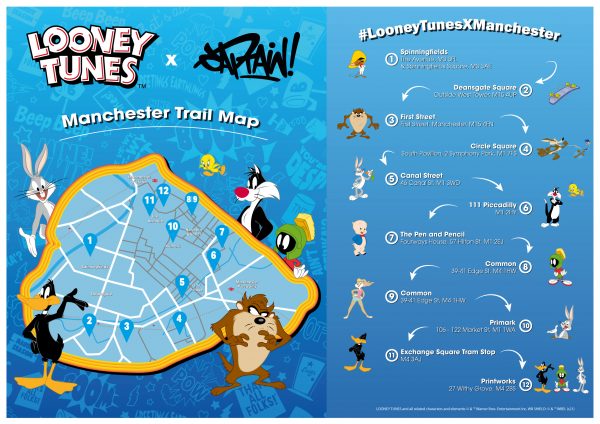 QR codes are hidden within each piece of character art revealing a virtual map and the opportunity to discover what else is new from the Looney Tunes including the Space Jam: A New Legacy trailer. The map shows each location on the trail, allowing people to discover them all. The route spans across all areas of central Manchester, from the Northern Quarter to Spinningfields, Market Street to the Gay Village, Deansgate to Oxford Road, Printworks to Primark.
Vaughan Allen, Chief Executive of CityCo & Manchester BID, said, "Manchester is renowned for its street art which is well-loved by residents, workers and visitors. We're delighted to be partnering with the legendary Warner Bros company to bring its iconic Looney Tunes characters to the city centre for this fun, family-friendly, outdoor art trail. Following the success of our recent Manchester Flower Show this is a great way of continuing to animate the city this summer in support of our business community."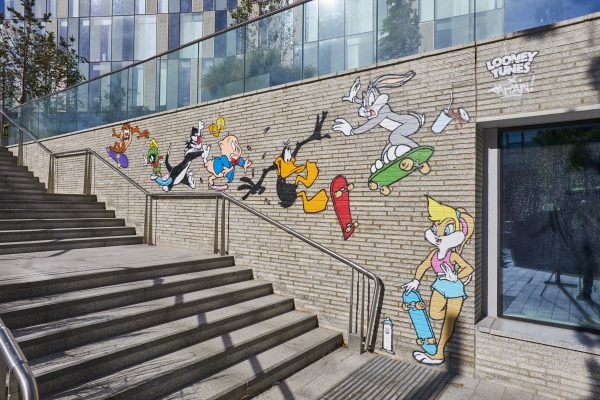 The street artist Captain Kris, alongside street art collective Blank Walls, designed the artwork with the aim to make the trail as vibrant and interactive as possible. As he usually works with bright colours and bold lines, Captain Kris was able to bring these characters to life through imaginative design and poses. Captain Kris says "Like most people, I've loved Looney Tunes since I was a child. It's been a lot of fun creating these cheeky, adventurous poses, with the Looney Tunes characters wreaking havoc across Manchester".
Explore Manchester's Looney Tunes trail from now until the end of July.
Trail locations are:
Spinningfields
Deansgate Square
First Street
Circle Square
Canal Street
111 Piccadilly
The Pen and Pencil
Common (left side)
Common (right side)
Primark
Exchange Square tram stop
Printworks
Other places fans can find Looney Tunes:
Space Jam: A New Legacy in cinemas July 16;
Brand New Looney Tunes Cartoons available weekdays at 6pm on Boomerang (from 7th June);
The new Looney Tunes line look range of six classic shorts compilations and feature films is released on 5th July. Available to pre-order now from WB Shop UK.
Warner Bros. Consumer Products (WBCP), will roll out the largest Looney Tunes merchandise collection in decades ahead of the highly anticipated new Warner Bros. Pictures movie "Space Jam: A New Legacy. Look out for Fashion from NIKE, Primark, H&M, Hype; and Toys from the likes of Funko and Moose Toys. Plus many more partners set to launch collections over the next few weeks.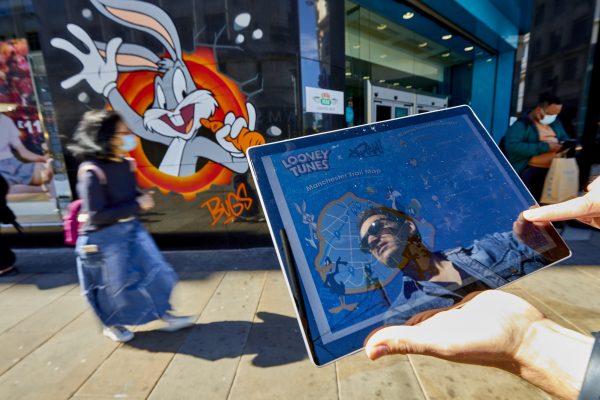 That's all folks!
Follow the trail on www.warnerbros.co.uk/brands/looney-tunes
Instagram: @WBUKAnimation
Hashtag: #LooneyTunesXManchester